Boots from Mesa are made to work | Business files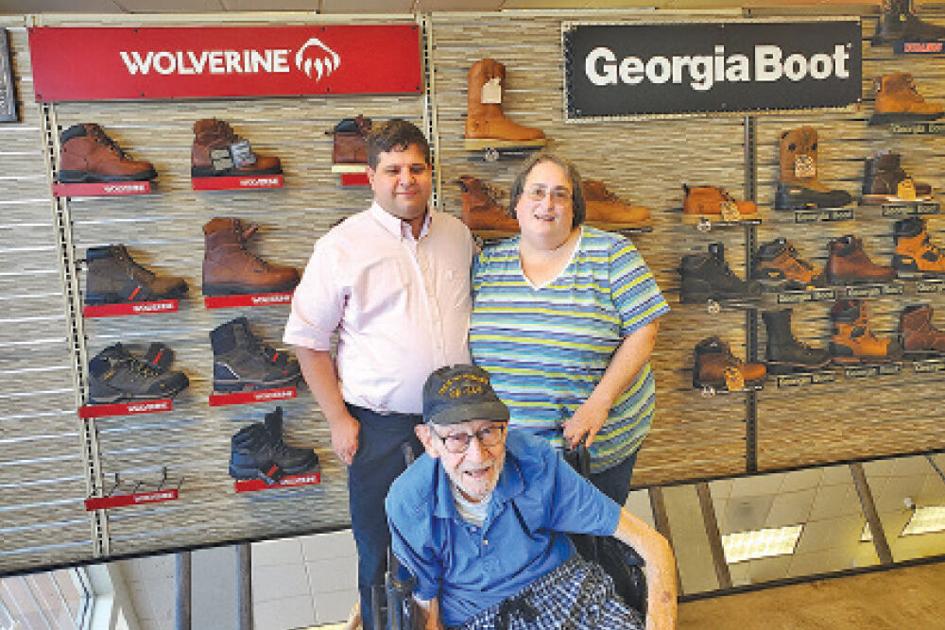 IIt took a long time for Jay Rivin to realize that Mesa was where his shoe store should be.
At 23 in 1957, he was just graduating from the Navy when he opened JR's Shoes and Boots in Phoenix, explaining, "Ever since I was little, I've always wanted my own store.
Now 86, Rivin recalled how he spent six months before finding a location in an empty section of a post office building, in part because "people have to go to the post office and the previous business there – a flower shop – did it well, they had to move to a bigger location.
After almost 40 years, Rivin wanted
a change so he moved the store to Gilbert when its population hovered around 64,000 – barely a quarter of what it is today.
But he didn't have much success there and wondered what he would do until a man came looking for a pair of high-top Nike sneakers in a size 13. He s. It turned out that after Rivin measured the boy's foot he needed a size 15.
"At that time, I had shelves of work shoes on display," Rivin recalls.
The customer was so impressed that he told his boss – who worked for the town of Mesa and was responsible for requisitioning work boots for the employees.
Eventually the city started doing business with him.
"Every assumption I made about Gilbert about kid's gear, selling sneakers, selling cowboy boots was totally wrong," Rivin said. "Work shoes, which I hadn't even thought about, turned out to be the key ingredient.
Several years ago, Rivin broke his hip and handed the business over to Aliza and Seth Rosenberg, who moved the store last September to a location near Dobson Road and Main Street in Mesa.
"Part of Jay's success is not just loyal customers, but we carry on his tradition," said Aliza. "You walk in, you get a joke, you get a candy bar because it takes time to have the right shoes on. You sit down and have a drink. We are talking. We find out exactly what the customer needs.
"And if I don't have the boot, if I can't figure out exactly what they need, I send them elsewhere." I don't want to sell someone the wrong boot for the wrong job. This is one of the key principles. It's on all of our ads. We'd rather make a friend by selling the right shoe than make an enemy and sell you the wrong shoe.
She said she and her husband believe in "this old way of taking care of customers."
"I've had women who came here, for example, who could only find three or four pairs of shoes to try on in other stores. They come here and after the 16th or 17th pair, they're like, "Wait a second, that's too much. I have so many choices, "said Aliza. "That's good. I feel like women need to be represented in these areas.
The store offers models of women's work shoes with a bit more flair – like pink, purple and blue boots – as well as traditional black boots for public safety workers.
"We're trying to bring things into the store that they can't find elsewhere," Aliza added. "If you go to some stores you won't find a size 17 for men. I probably have six to eight different styles in a size 17 which is amazing. Women's shoes go down to size 3.
Seth explained, "I think where we are successful and where we are looking to grow is that we are countering this Amazon trend. Most of the products we sell can be obtained online. You might even be able to get them for a few dollars less.
"But the question is how often do you send it back and forth?"
"When you buy a pair of boots from us, usually we don't just give you a pair of boots. Depending on the type of boots, we will provide you with replacement laces or boot care products because we invest in making sure you have a quality product… We do not sell this item fast and cheap.
Aliza said they were telling customers, "When you leave the door you don't leave the store… If you have a problem with your boots – unless they're on clearance – come back and I'll take care of it. . Our motto is that we are not going to sell you a pair of boots if they are not the right boots for the right job.
And that is, Seth added, "this is where it differs from the online experience."
"We have you do a bunch of contortions, exercises when trying on the boot," he said.
"Usually we don't let someone buy boots for their loved one or family member because you can't try them on. In fact, I remember when we first took over, turned away several people and got yelled at, "You don't want my money? And I would say, "Not really".
His wife added, "We're not going to try to get money just to make a sale. It is not worth it for us. We want you to come back. We want you to tell people about us.
Information: 62 N. Dobson Road, Mesa. jrsshoesandboots.com, 480-[497-2323[497-2323[497-2323[497-2323